News archive from 2016
Thun Tankers orders series of next generation chemical tankers
New website
Launching m/v Ireland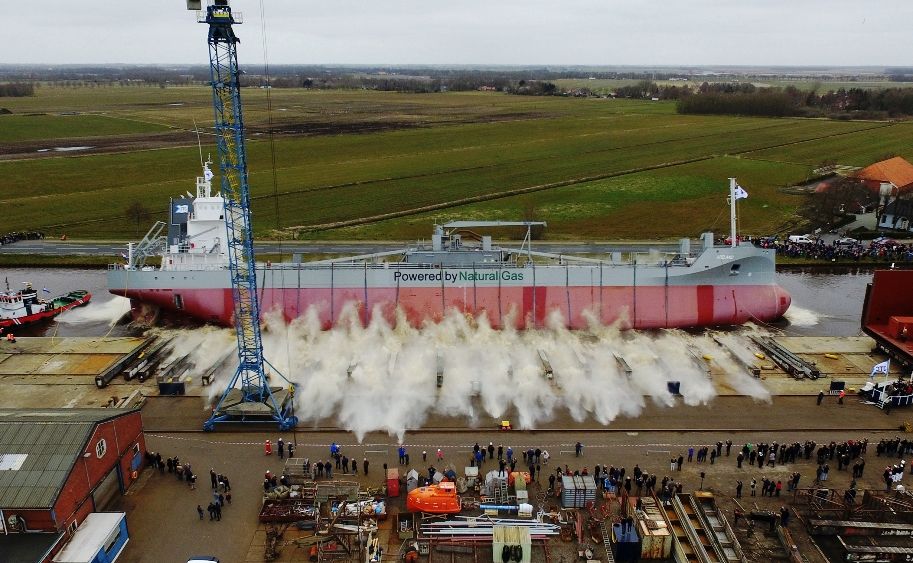 On Saturday March 19th the m/v Ireland was successfully christened and launched at the Ferus Smit Shipyard in Westerbroek, the Netherlands. The christening ceremony was performed by mrs Beatriz Mayans Zamora, partner of mr Luis Miquel Labarra Pérez, shipping manager Cemex, Spain. Despite the chilly weather a large audience came to witness the launching which is always a spectacular sight.
After the launching the festivities continued with lunch in Groningen and ended with a dinner for 70 invited guests in the evening.
M/v Ireland is the second cement carrier built for the joint venture JT Cement, in which Erik Thun AB cooperates with KGJ Cement AS from Norway. The vessel is equipped with an LNG fueled propulsion system and the unique design incorporates a pressurized LNG tank positioned in the fore ship.
The vessel is equipped with a fully automated cement loading and unloading system, based on the principle of fluidization of cement with compressed air. The system enables the cement to be pumped through a completely closed, thus dust free, piping system to shore facilities.