On Saturday 21st  of October, Nb. 445 was successfully christened and launched at the Ferus Smit shipyard in Westerbroek, The Netherlands.
The christening ceremony was performed by Berit Berggren, Erik Thun AB. After the ceremony the launching went smoothly.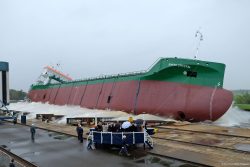 "Snow Crystal" is the first vessel in a series of two mini bulkers with ice class 1A and two cargo holds. The second vessel will follow in the beginning of next year as a full sister ship although she will be lengthened by 15.6 mtr. The vessels' design is a further development of our existing vessels "Alice" and "Helge" and based on long experience of tailor making mini bulkers. They are planned to replace the "Snow Star" and "Ice Star", that were built by the same yard about 20 years ago.
The new mini bulkers are characterized by their extremely high deadweight of 5.680/6.550 tons. The breadth is limited to 13.35 mtr, to be able to fit into the locks of the Trollhättan Canal, which will only be applicable for "Snow Crystal".
The propulsion installation consists of a 1.950 kW Wärtsilä main engine running on MDO fuel, and driving a nozzled CP propeller.