Powered by gas
E-class – Embracing the future – Building on experience from the past
For us, the in-house knowledge has been key when developing future efficient and sustainable transport solutions. For decades we have designed increasingly economic and fuel efficient quality ships. Long term customer relationships have enabled us to build and develop tailor made ships that meet our customers' demands and the E-class vessels are a good example of that. The vessels are a further evolvement of Thun Tankers' existing G-class fleet and focus on efficiency, environmental care and customers' needs has been essential when developing the new vessels. The vessels are built to the absolute latest design meeting and often exceeding existing and forthcoming regulations. The E-class vessels are being built by Scheepswerf Ferus Smit B.V. in the Netherlands, with whom we have a close and long standing relationship, the yard have previously built more than 30 efficient quality vessels to Erik Thun.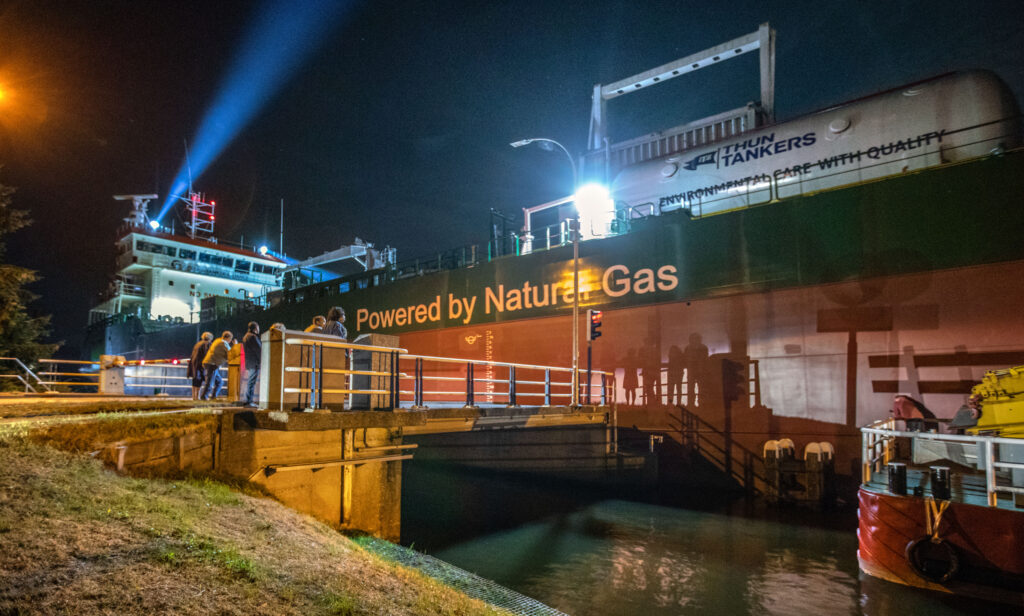 All four dual fueled product tankers have been delivered – Thun Eos, Thun Evolve, Thun Equality and Thun Empower – trading mostly in Scandinavian waters for long time charters. One of our customers, the oil company Preem has, together with Gasum, initiated a new bunker blend with 10 % biogas, meaning Thun Evolve now runs on LNG (Liquified Natural Gas) blended with renewable LBG (Liquified Bio Gas), reducing the emission even further.
 Environmental features:  
Dual fuel main engine with LNG/LBG as optional fuel.
Fuel efficient hull design with eco canoe bow design.
Ballast water treatment.
Water lubricated stern tube.
Fitted for receiving land electricity.
Propeller fitted with nozzle ring for better fuel efficiency.
Reduced noise levels both under and over water.
Read more about the E-class in our folder: Thun Tankers E-class
Thun Venern – A sustainable environmental investment
Thun Tankers, part of the Erik Thun Group, have together with partners of the Gothia Tanker Alliance, built the next generation intermediate product/chemical tankers with LNG/LBG propulsion. The vessels' design, developed by FKAB together with Furetank, has special focus on minimal impact on the environment, with close to 50 % reduction of CO2 emissions. The vessels fulfills the Tier III rules, have dual fuel/LNG/LBG propulsion including LNG/LBG in port consumption, LNG/LBG for inert gas production, power production with floating frequency, battery backup (UPS) for all vital functions to minimize use of auxiliary engines, installed ballast water cleaning system, ice class 1A and Alternative Propulsion System.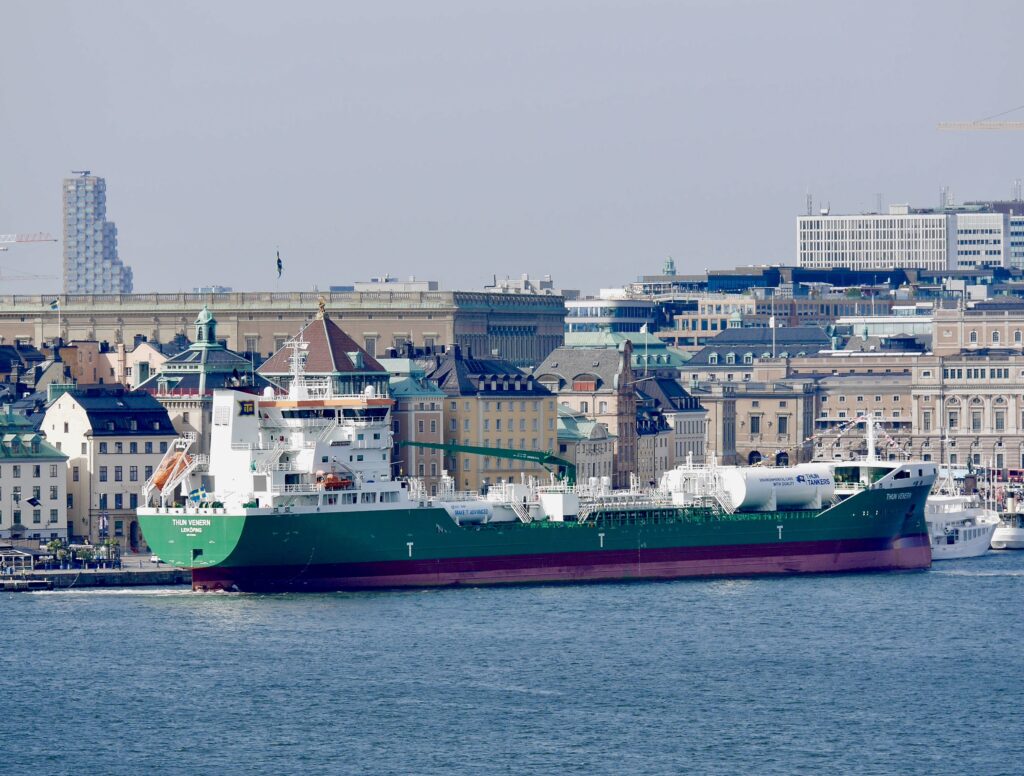 IVL,  Swedish Environmental Research Institute, has made an environmental assessment of the vessels. Read the report here.
World's first LNG powered cement carrier
Our subsidiary JT Cement operates the cement carriers Greenland and Ireland, launched 2015 and 2016 at Scheepswerf Ferus Smit B.V. in the Netherlands. They were the two first dry cargo vessels in the world fueled by LNG. In 2019, their sister ship Shetland was also launched.  Shetland has improved cargo carrying capacity and improved LNG tank capacity compared to her sister ships, and she is able to receive shore power. The carbon dioxide emissions of the LNG powered Greenland are down by 45% on the route between the Slite cement plant and Malmö terminal in Sweden, compared with the previous generation of cement vessels. To confirm that we are moving in the right direction, Shetland was awarded a perfect score of five stars by the Clean Shipping Index.