Sustainability report
Sustainability report Erik Thun Group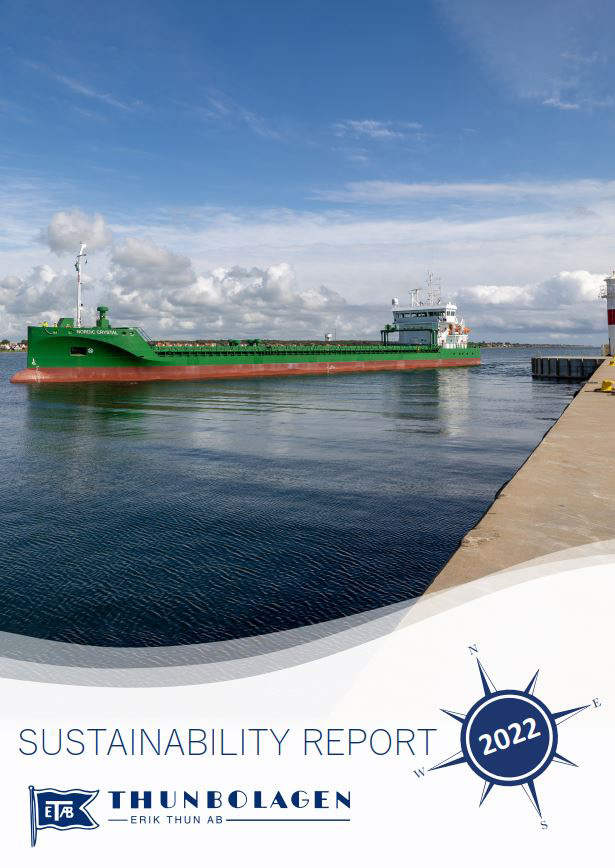 The sustainability report is a way to describe the economic, environmental and social impacts of our everyday activities, as a complement to the annual report. Shipping is a controlled industry and restricted in many ways by global policies and sustainability has constantly been an important part in how we work and do business.
We have focused on our environmental, social, and governance responsibilities, describing how we work proactively to analyze risk and avoid incidents. We strive to be technical innovators when it comes to clever solutions that minimize the environmental footprint. We also describe how we work to care for the well-being of our employees both ashore and on board as being an attractive, safe and responsible workplace is the key to success.
We have chosen to connect our sustainability work with the 17 global goals for sustainable development that UN has set for the global community, to make our vision and target clearer and to emphasize that sustainability is a long-term commitment for future generations.
Read the report for 2022 here: Erik Thun AB Sustainability report 2022
Earlier reports:
Erik Thun AB Sustainability report 2021
Erik Thun AB Sustainability report 2020
Erik Thun AB Sustainability report 2019
Erik Thun AB Sustainability report 2018
Erik Thun AB Hållbarhetsredovisning 2018
Erik Thun AB Sustainability report 2017
Erik Thun AB Hållbarhetsredovisning 2017