History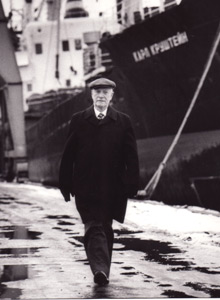 In 1938 Helge Källsson founded the Erik Thun Group. Today it is an established family company, involving a third generation.
It all started when Helge Källsson came to Lidköping in 1931, at the age of 25, to work for a Lidköping shipowning business as a charterer. His employer, Erik Thun, suffered from tuberculosis, and in his absence, Helge was soon running the whole operation.
When Erik Thun died in 1938, the business was inherited by a mix of family and employees. The business was now formally registered as a joint stock company, bearing the name of its former owner. Helge Källsson was the obvious choice for manager. In the years that followed he expanded the company and gradually bought out other minority owners.
By 1960 Helge Källsson had a veritable majority of the shares. His enterprising spirit led the company into a variety of business areas. Although tank and dry cargo shipping were always at the core of the enterprise, the other business areas ranged from shipyard to coal merchants and trucking business.
In the 1980s the portfolio was once again trimmed back to the core of the business. In 1987 Helge was succeeded by his eldest son Jan. During the 1990s, the tankers were sold, and focus was laid on the dry cargo part of the shipping business.
In 2004 Jan was succeeded by his brother Anders.
Shipping has to this day remained the core business, but other ventures have also been pursued. In the 1990s, the Erik Thun Group established a local estate business. This was sold in 2014. In 1993 the airline Golden Air was acquired, and grew to become largest Swedish-owned airline. It was sold in 2012, and continued under the name Braathens Regional. In 2003 the meat processing company Direkt Chark was added to the Group.
In 2012 the Erik Thun Group became full owner of 13 coastal product tankers, which we had previously owned jointly with shipowner Broström/Maersk. This meant going back into commercial management of tankers, for the first time in 18 years.
In 2013 the Erik Thun Group celebrated its 75th anniversary. Two of Helge Källsson's grandchildren, Johan Källsson and Henrik Källsson were also appointed Deputy Managing Directors, bringing the family business into the third generation.
Erik Thun celebrated its 75th anniversary in Lysekil being the main sponsor for Lysekil Women's Match.
In May 2019, Johan Källsson was appointed Managing Director by the Board of Directors after Anders Källsson chose to resign.
The Story of the Erik Thun Group
We have a folder in Swedish to mark the 80th anniversary in 2018. Click to view.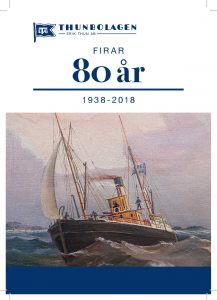 These two historical folders were produced to mark the 75th anniversary of the Erik Thun Group in 2013. Click to view.