Sustainability
The Erik Thun Group has for decades worked at pushing the limits for how economic and fuel efficient ships can be designed. Even before words such as environmental care and or sustainability were being used.
Sustainability report – Hållbarhetsredovisning
Erik Thun AB has now published its sustainability report for 2017. The purpose of a sustainability report is to put background to the figures in the annual report and show how the company work with sustainability in different areas. Shipping is a controlled industry and restricted in many ways by global policies and for us sustainability work is nothing new, it has constantly been an important part in how we work and do business. Read our report (in Swedish) by clicking on the picture. Read our report in English here.
The Next Generation Eco-Ships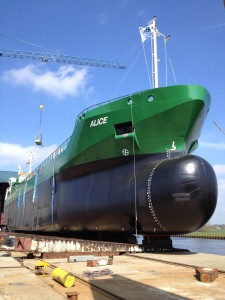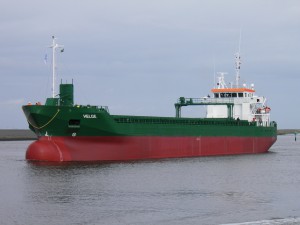 Two of the latest Thun ships, M/V Alice and M/V Helge are in the very forefront of their segment when it comes to fuel efficiency.
When they were built in 2013, they were improved by new hull shape, which effectively reduced fuel consumption by 15 percent. The electrical system was also modified, in order to enable the ship to run more fuel-efficiently at reduced engine speed. The ships were equipped with a system for purification of ballast water, to prevent the undesirable spread of marine organisms, and with water lubricated stern tubes, to avoid oil pollution from the propellers.
New Fuel Types
The next step for the Erik Thun Group is a change of fuel type and our new-built Thun ships will be fuelled by Liquified Natural Gas (LNG). Something which has yet only been applied to a handful of ships worldwide. LNG solves not only the problem of SOx-emissions, but also reduce the emission of NOx, CO2 and particles. The Erik Thun Group was granted developmental funding from EU INEA and you can read more about this world first project at a dedicated homepage here>>.
In winter 2015-2016 the two first dry cargo vessels in the world fuelled by LNG, M/V Greenland and M/V Ireland,  were launched at Ferus Smit Shipyard in the Netherlands. To read more about our LNG projects, please see our broschure: LNG – a solution for sustainable transports
Social responsibility
Opinion Forming
Transport by sea is one of the most climate neutral transport modalities. Shipping does however not always compete on equal terms with other means of transport. There can be vast differences in how much of their own infrastructure each modality needs to fund. As these differences are based on political decisions, the Erik Thun Groups has for many years put tireless effort into opinion-forming, where these issues are concerned. All modes of transportation are needed, but our concern is that the most energy-efficient choice may not be used in each situation. We have gathered our reports on this here. (in Swedish)
Helge och Alice Källsson Memorial Foundation
In 1982, the Erik Thun Group founder created the Helge och Alice Källsson memorial foundation with the purpose to provide scholarships for research aiming for environmentally safer coastal transports and scholarships for education and research in trade and shipping.
Net Fam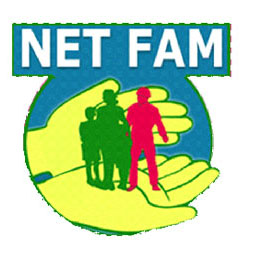 The majority among the crews on board the Thun ships are from the Philippines. The Erik Thun Group has chosen a crewing company, Net Ship Management, which has a sound CSR-plan, including the seafarer's families as part of its corporate family. With the crew-members away from home on long contracts, it is crucial that their loved ones are looked after. Among other things, their Netfam-programme offers communications services between families and ships, scholarships and health care benefits.
Local engagement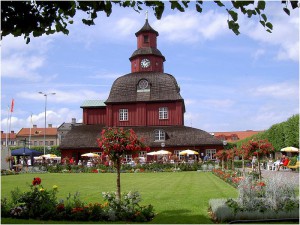 The Erik Thun Group is based in the small town of Lidköping with a population around 30,000 residents and has always made a point of remaining there, even as the business has grown. As an employer with a long-term perspective, we want this town to be a good place to live and we support a number of local charities.