Sustainability
The Erik Thun Group has always focused on using resources in the most modest way as possible. This has been our mindset long before the environmental focus was on top of the agenda and since the start in 1938 this has set the corporate culture throughout our organization. Our strategy has always been to streamline our business so we can achieve a better value for our customers, while not using more resources than needed.
Powered by gas
Being in the shipping industry, we believe we can actually make a difference in the global perspective by being responsible and do our part. Through innovative ship design, we are constantly working to minimise our environmental footprint. Together with our partners and customers, we are committed to combine our daily operations and business projects with a long-term aim to move from fossil fuels to more sustainable alternatives. Right now, we are in the midst of an extensive new building program including several vessels powered by gas where the ultimate goal is to use carbon neutral fuels like biogas.
Our cement carriers Greenland and Ireland, launched 2015 and 2016 at Scheepswerf Ferus Smit B.V. in the Netherlands, were the two first dry cargo vessels in the world fueled by Liquified Natural Gas (LNG). LNG solves not only the problem of SOx-emissions, but also reduce the emission of NOx, CO2 and particles.
In 2018, our intermediate product tanker Thun Venern started operating. She was the third vessel in a series of totally eight vessels ordered together by Furetank Rederi AB, Rederi AB Älvtank and our subsidiary Thun Tankers BV, within the partnership of Gothia Tanker Alliance. The vessels' design has special focus on minimal impact on the environment, with close to 50 % reduction of CO2 emissions.
Also in 2018, we started launching our new dual fueled product tankers in the E-class; Thun Eos and Thun Evolve, and two more sister vessels will be delivered during 2021. The main fuel right now for these vessels is LNG, but Thun Evolve is involved in a project with renewable maritime fuel and is currently using a new fuel blend consisting of liquefied natural gas and 10%  of renewable liquefied biogas, reducing the emissions even further.
Sustainability report
Erik Thun AB has recently published its sustainability report for 2019. The sustainability report is a way to describe the economic, environmental and social impacts of our everyday activities, as a complement to the annual report. Shipping is a controlled industry and restricted in many ways by global policies and sustainability has constantly been an important part in how we work and do business. Read our report in English here.
Local engagement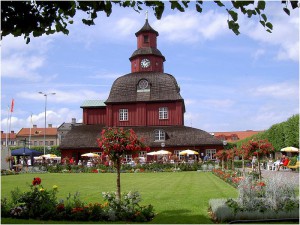 The Erik Thun Group is based in the small town of Lidköping with a population around 37,000 residents and has always made a point of remaining there, even as the business has grown. As an employer with a long-term perspective, we want this town to be a good place to live and we support a number of local charities.